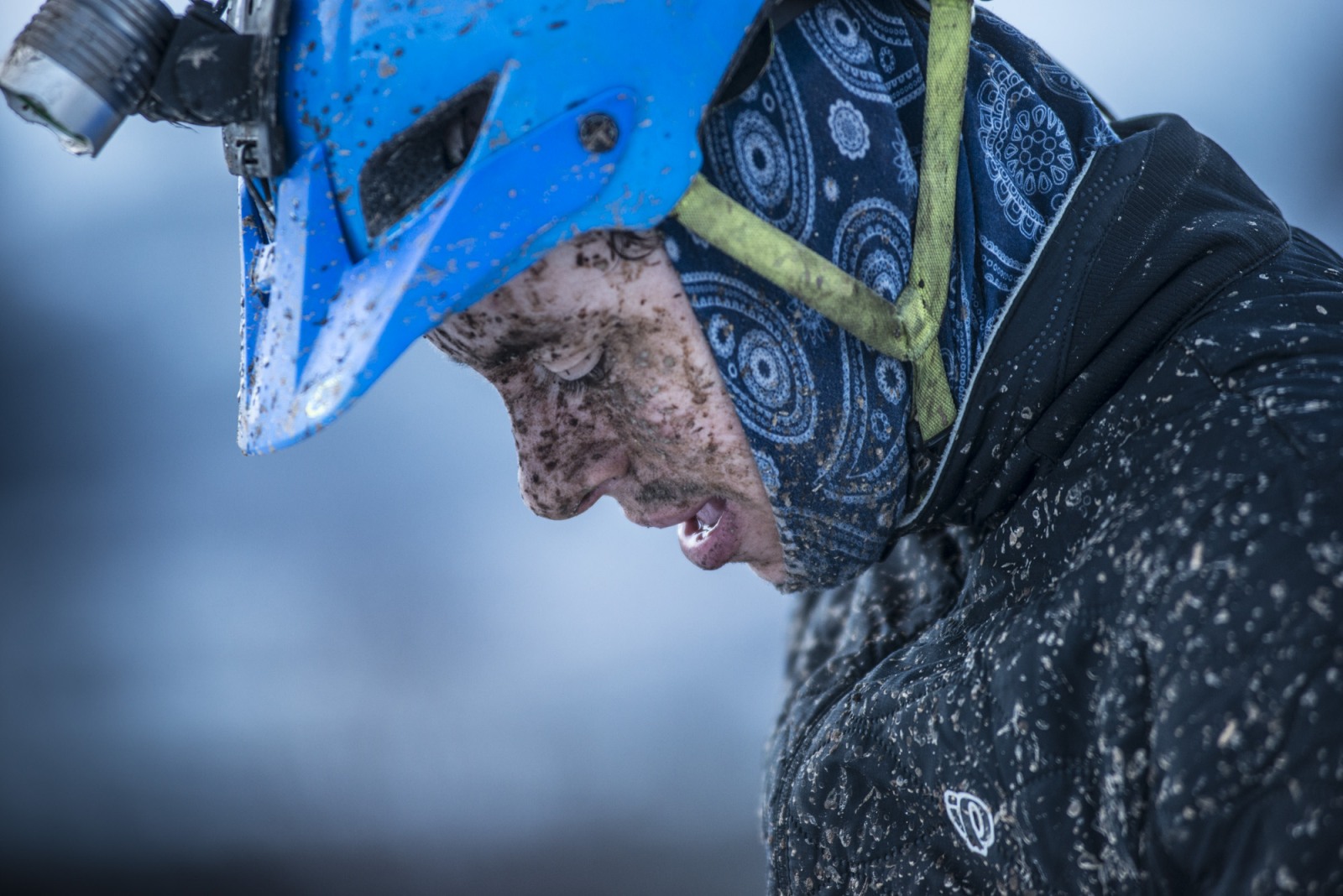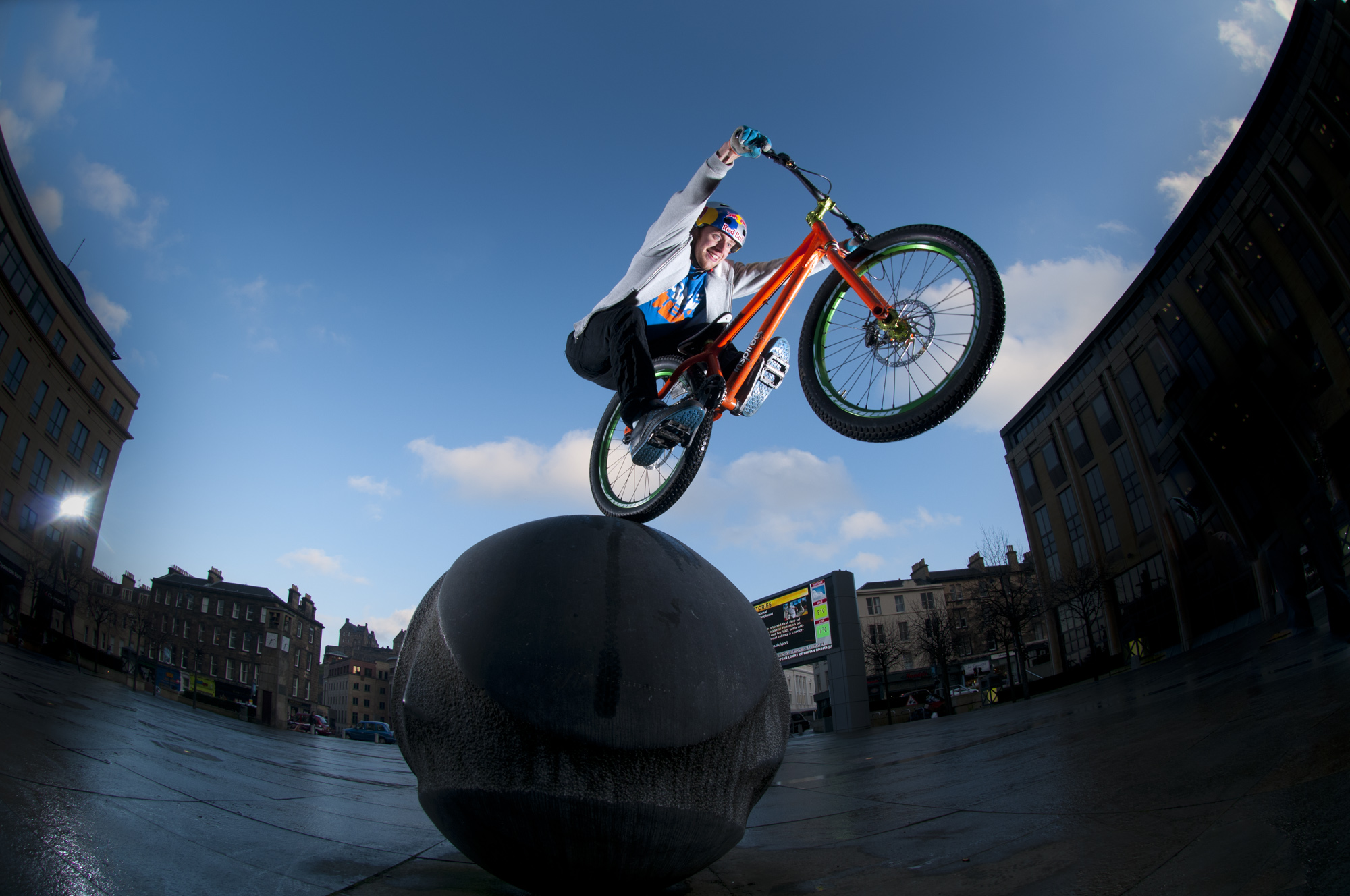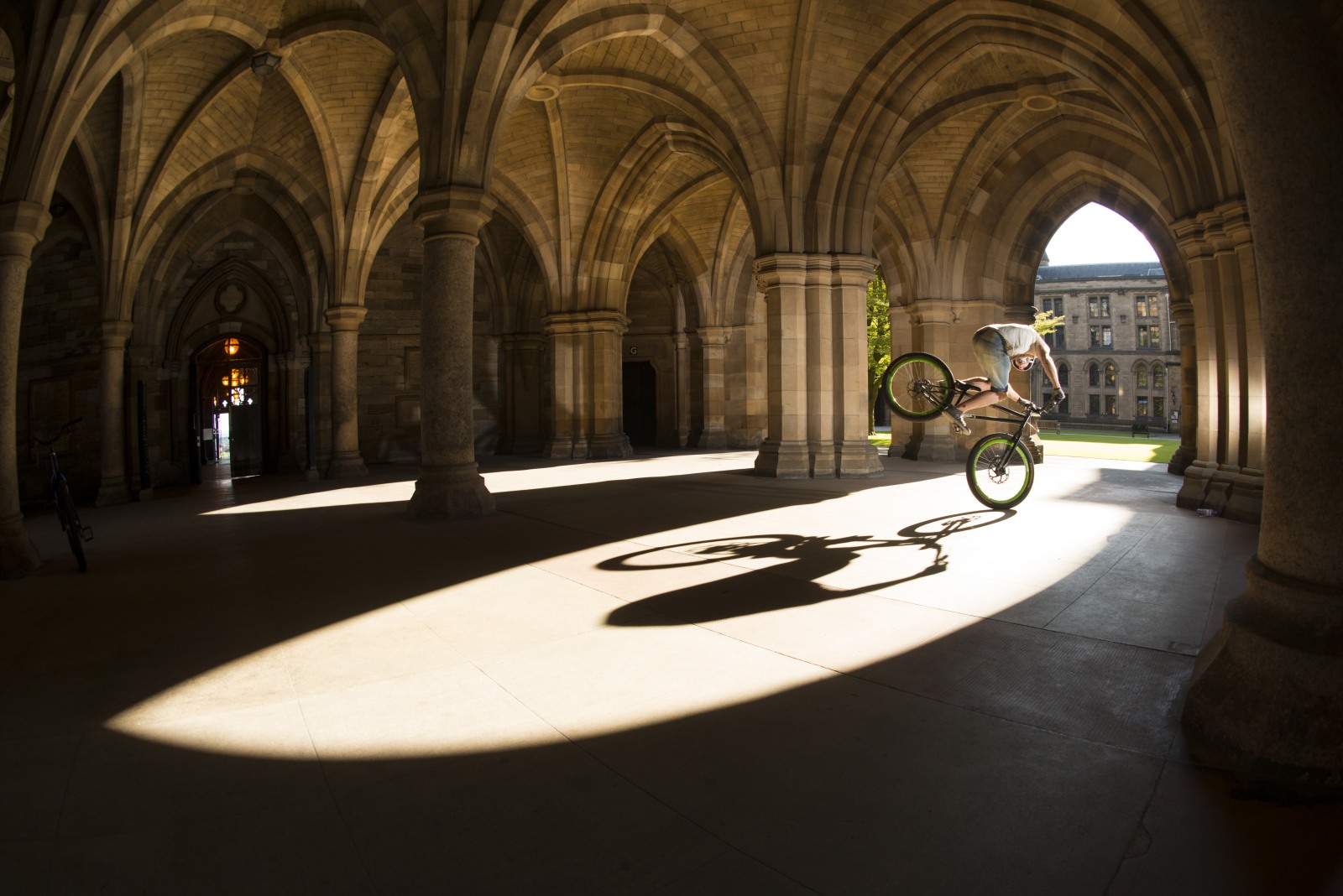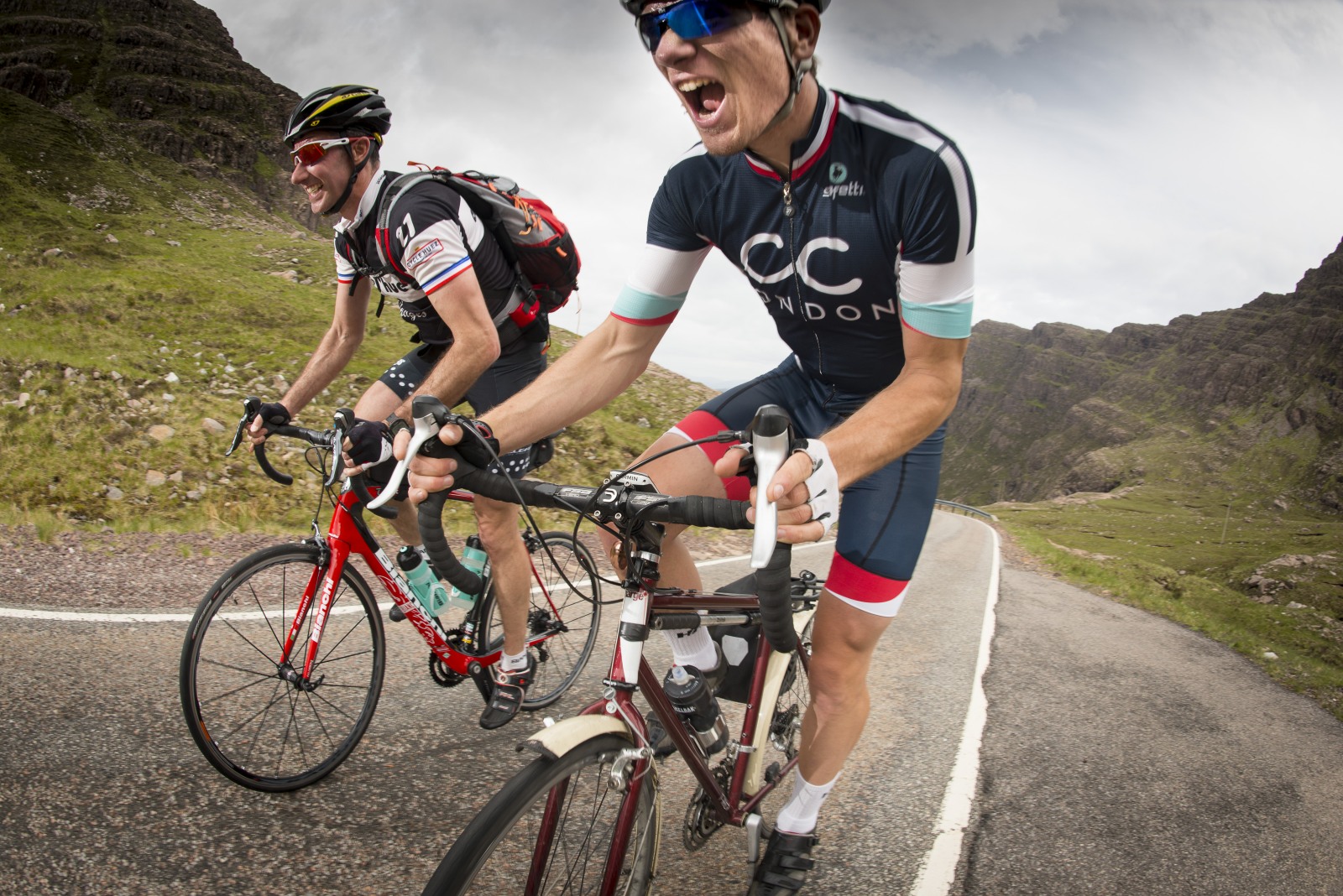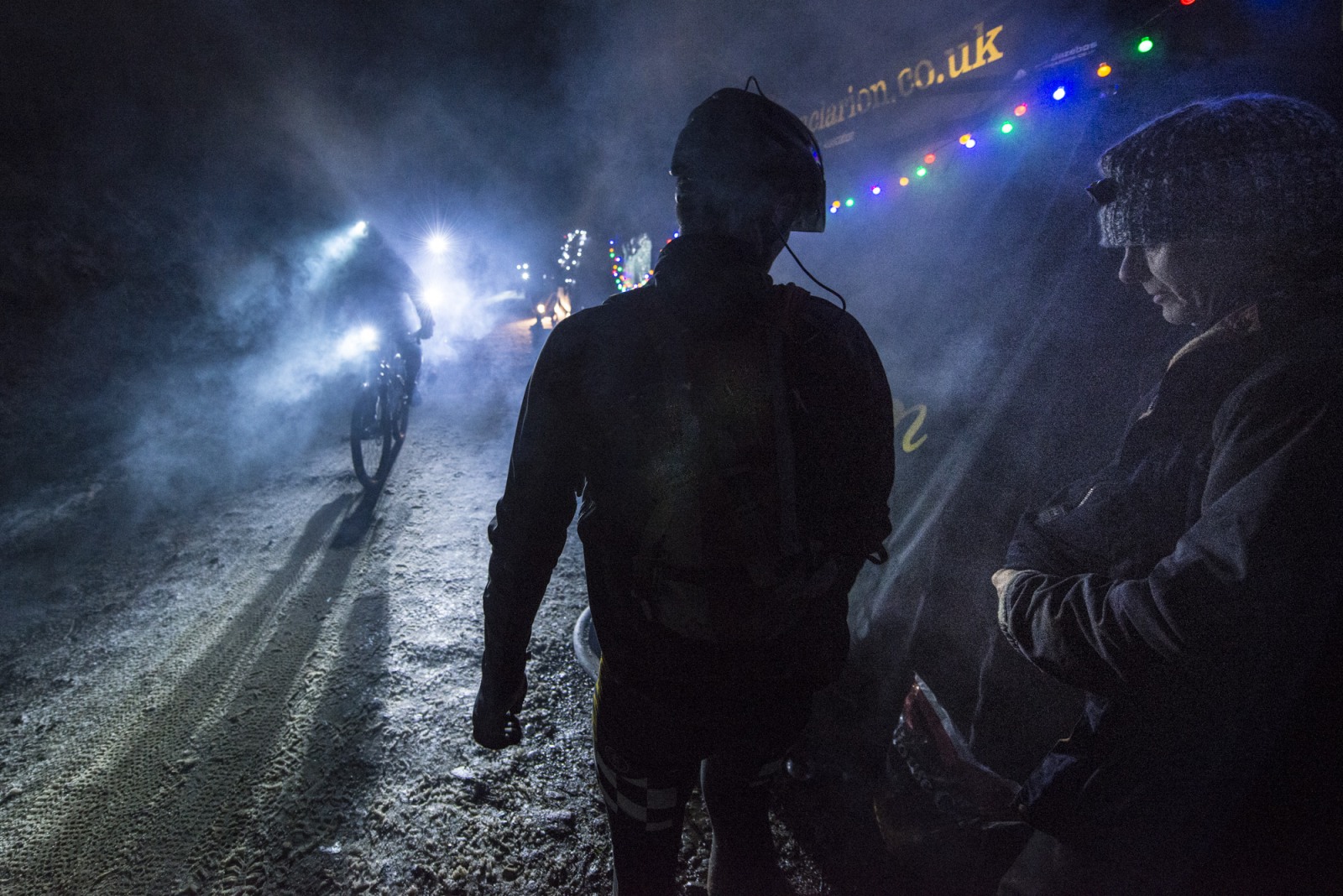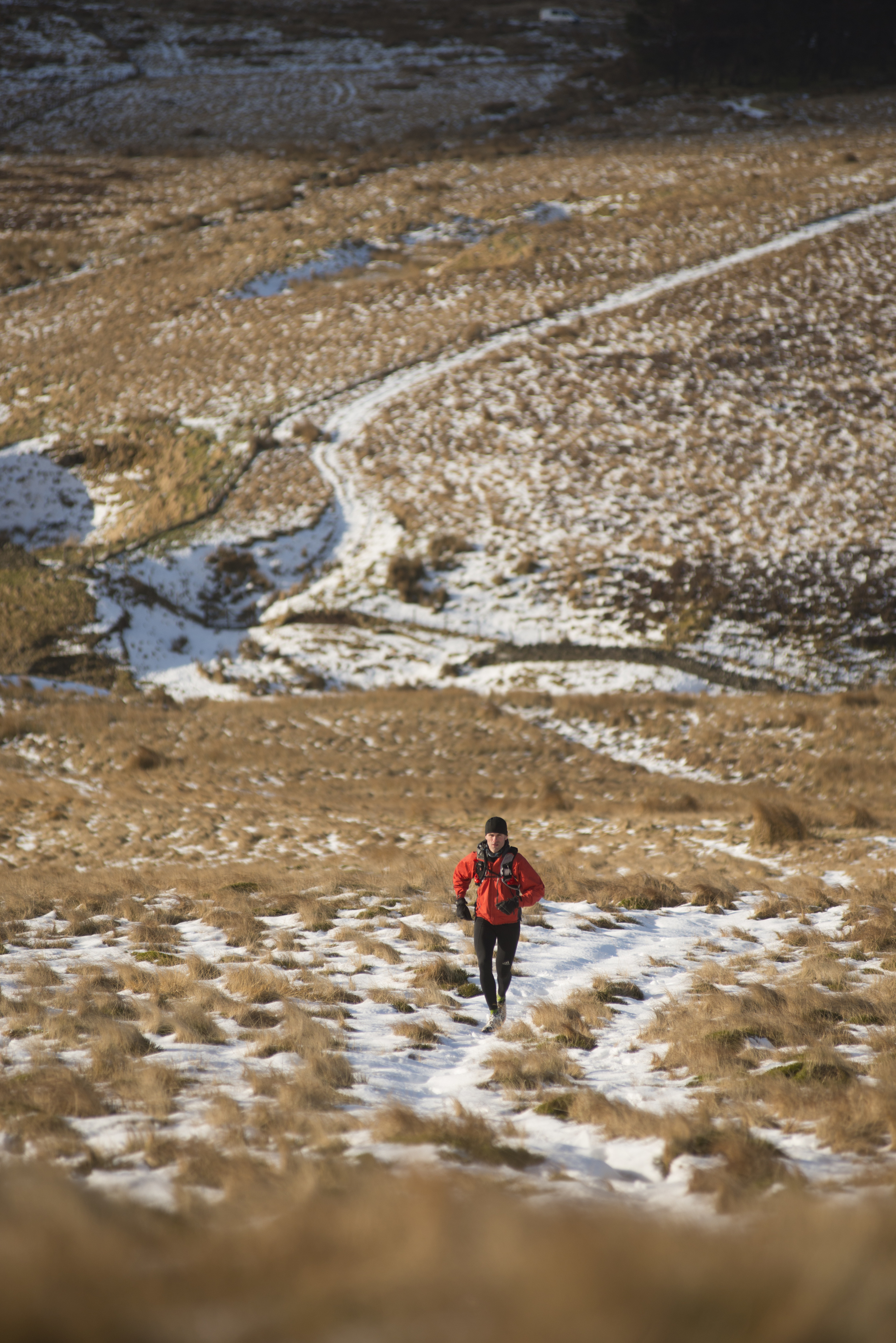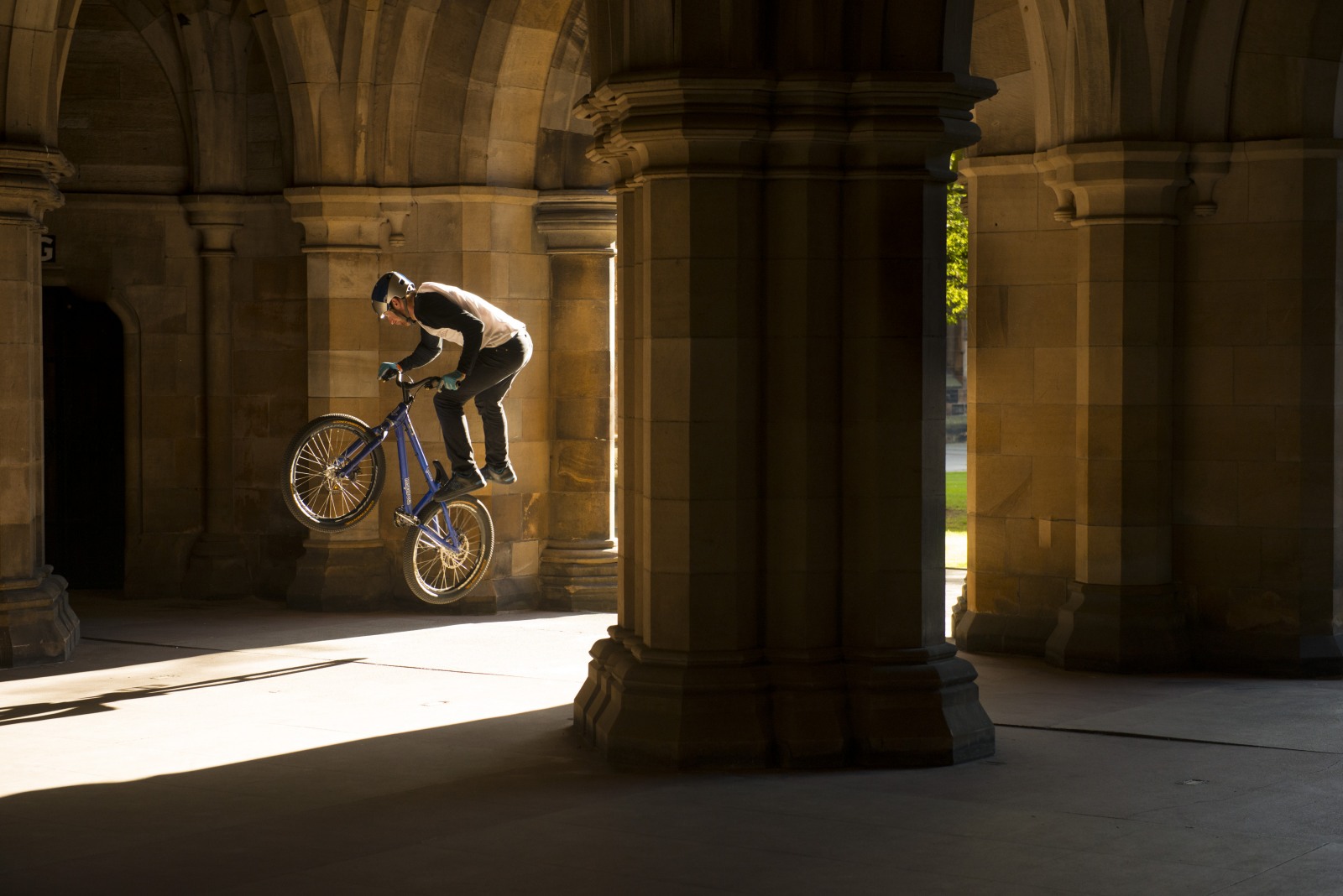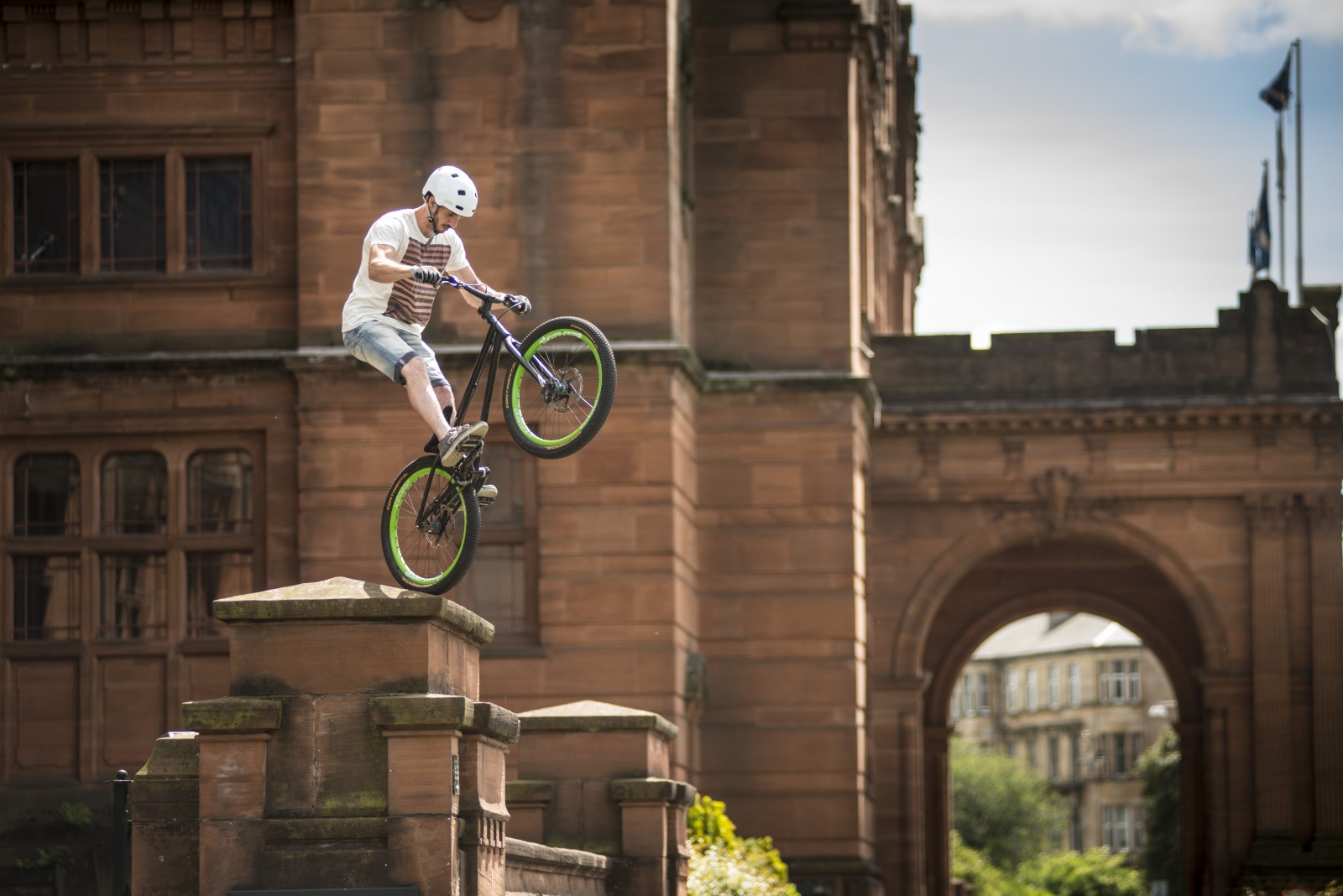 Winter Summit, Ben Lomond / MBR Magazine
A 5am start, sub-zero headtorch ascent of Ben Lomond to catch the sunrise. It was well worth all the effort of course. With Scott Laughland and Pete Scullion for MBR magazine. We nabbed a cover too.
Isle of Harris / Bosch e-Bikes and Harris Gin
Shot as a feature for Sidetracked magazine, but financed by Bosch and Harris Gin, this was a cracking trip. Ride round the wonderful Isle of Harris on an electric fat bike and drink gin? If it gets any better than this I am not sure I can take it.
Danny MacAskill - The Ridge Shoot / Cut Media
A cracking week up on Skye with Danny and the lads from Cut Media. Amazing weather and incredible talent from Danny meant the resulting movie - The Ridge - was a runaway success with more than 30 million hits on YouTube and counting.
Hannah Barnes Covershot - Cycling Weekly
A chilly day in Glencoe payed dividends with a few covers with Hannah soldiering on, the true professional as ever!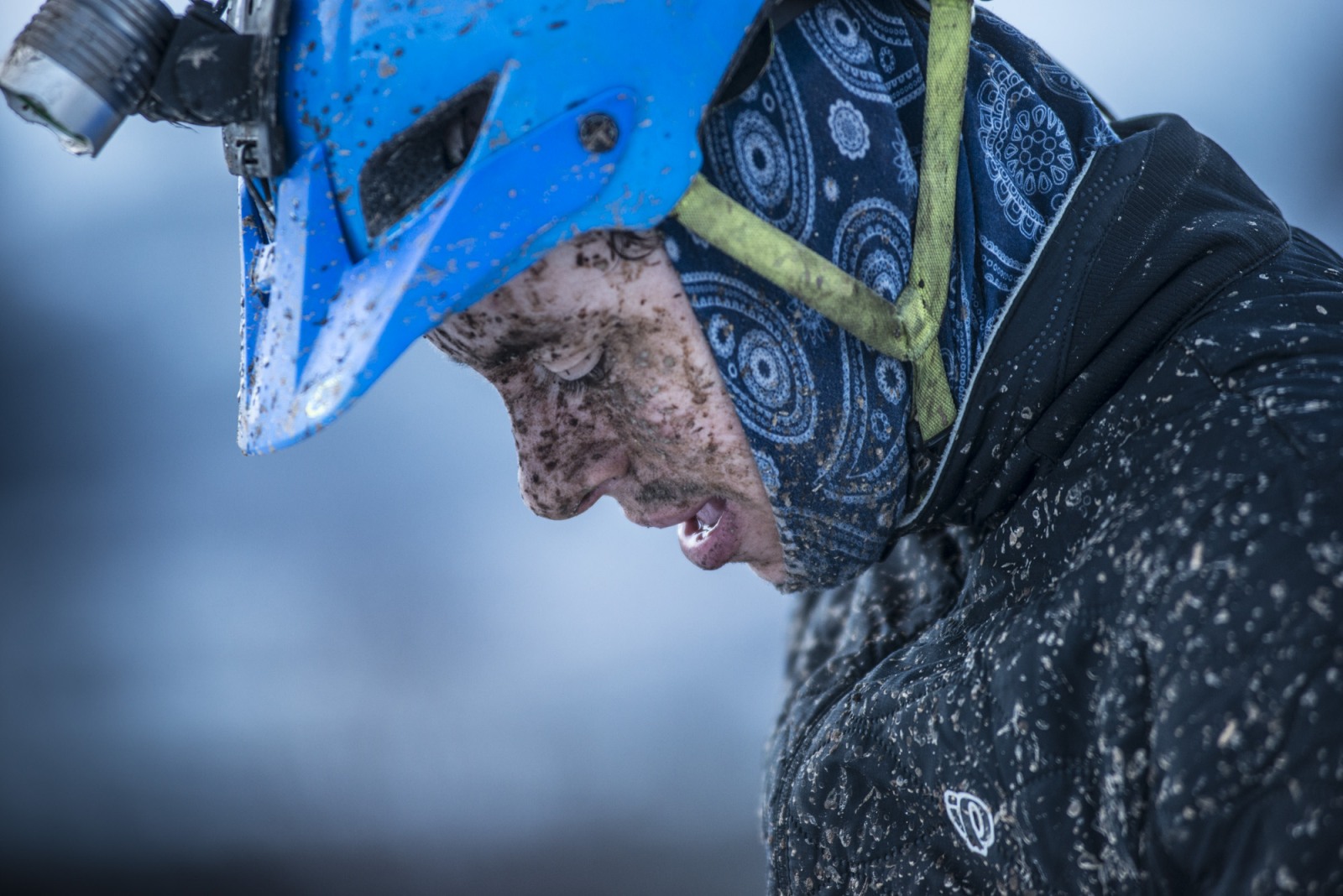 Exhausted Rider at the 2015 Strathpuffer Endurance MTB Race / Red Bull
24 hours of mountain bike racing in the depths of a Scottish winter. It doesn't get much harder, and the exhaustion was written on this guys face only an hour before the finish.
Dirty Weekend / The Rat Race
Mud, sweat and tears are always on show at one of the most fun events on the adventure race calendar.
Five Ferries Ride / Cycling Plus
A compilation of shots from a one-day shoot for Cycling Plus with Trevor Ward and Doug Dewey. A gorgeous day with amazing scenery produced a shining feature that showcased the Scottish west coast beautifully.
Climbing the Innerdalen Tower - TGO Magazine
Shot on the approach to the tower, with Sean McFarlane and Chris Volley.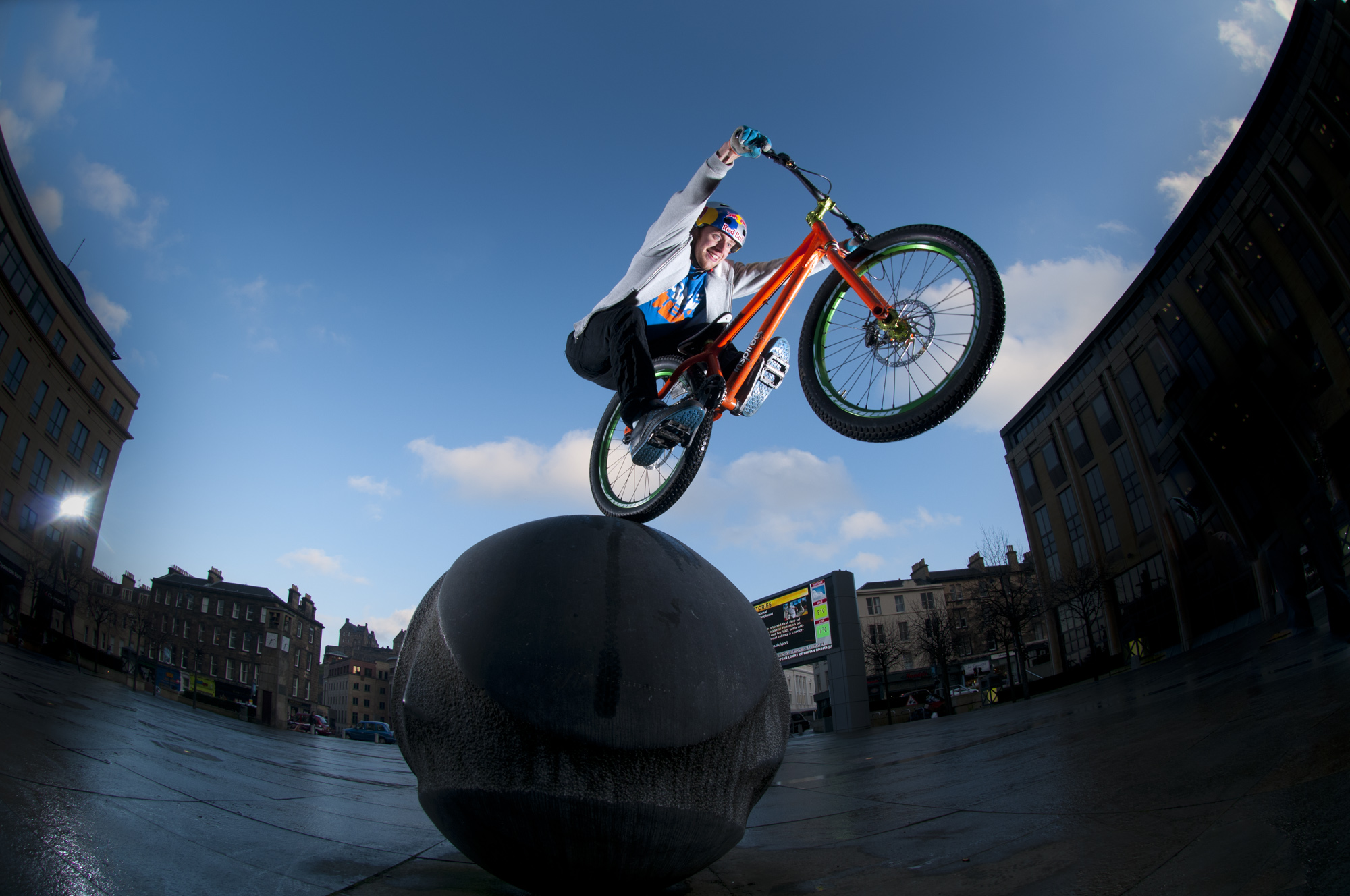 Danny MacAskill in Edinburgh / Lezyne
Shooting in Edinburgh city centre with Danny for Lezyne. After shooting him in the workshop we wandered and managed to get some street trials to top up what turned out to be a very productive half day's work.
Cycling Weekly - 3 Pistes Sportive
A chilly autumnal shoot on the 3 Pistes Sportive course for Cycling Weekly. Sean McFarlane and Alan Manson are the stars of the show just about to summit the Lecht in this shot.
Paddling Course / University of the Highlands and Islands
Learning to handle a white water boat near Fort William - amazing skills and dynamic water made for some great photo opportunities for the university prospectus.
Competitor on Highland Warrior Triathlon / No Fuss Events
The road shape prompted this shot of a competitor in the Highland Warrior, shot for the organisers No Fuss.
Challenges in City Adventure Race / Rat Race Events
Fun and challenging - that is the aim of Rat Race events. This competitor is trying to work the biscuit down his forehead into his mouth before he can move on. Hilarious.
Pure fun / Outward Bound
A zip slide in Outward Bound in the Lake District. This guy was having so much fun he made the shot.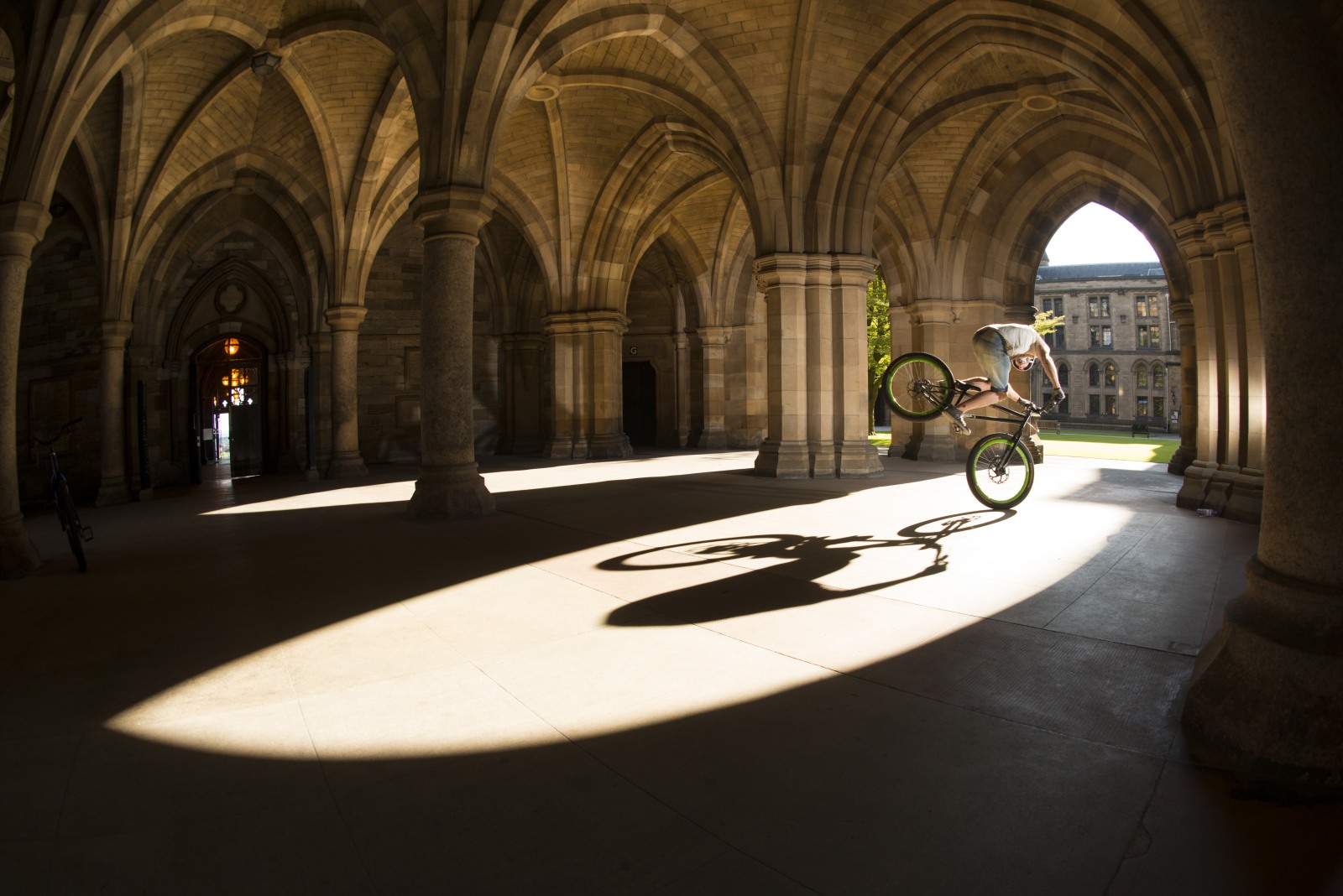 Ali C in the Cloister of GLasgow University / BBC
Shooting stills for a pre-Commonwealth Games movie for the BBC, we passed through these cloisters in Glasgow Uni and the light was just amazing.
Bike Rafting / MBR Magazine
A memorable weekend away traveliing through the Highlands with the BackCountry Biking lads. We rode, carried inflatable boats and used them to paddle lochs and down rivers round the route.
Dropping the Nevis Falls - Rat Race Events
Dropping the Nevis Falls as part of an adventure race. After a bit of scrambling I found a different angle that effectively showed off the drop. And I didn't even fall in once.
Neil Donoghue on Skye / MBUK Magazine
The view back to the mainland from the Quiraing on Skye was just stunning on this crystal clear winters day. Donny gave some superb riding as always, and this pic was the result.
Adventure Racing / Rat Race Events
Dragging their boat through a pond during another fun-packed race by the Rat Race guys. Running, paddling, cycling and... swimming.
Danny MacAskill at the Forth Bridge / Red Bull
Another shoot with MacAskill for Red Bull, this time on the islands in the Forth Estuary, built up with defences during the Second World War. Now derelict they were a playground for the man.
Mont Blanc MTB / MBR Magazine
A week in the Alps produced some great location, but few better than this view across to Mont Blanc.
Paddlers leave Rum / Rat Race Events
Shot from a helicopter of the World Adventure Race Championships on the west coast of Scotland. Competitors leave the island for a stiff paddle across open sea to the mainland where they are just starting their race.
Danny MacAskill in Edinburgh / Lezyne
Another shot from the Lezyne/MacAskill shoot in Edinburgh. Down a typical Edinburgh sidestreet in his old trials stomping ground.
Cairngorm Woods / Vertebrate Publishing
Andy McKenna charging through a beautiful section of Caledonian pine south of the Cairngorm mountains. A lovely bit of trail...
London to Edinburgh Cycle / Rat Race Events
Road riders approach Edinburgh on the last big climb on the massive ride from London. Hard work.
Enjoying the Seven Stanes Trails / MBR Magazine
Andy Wardman on the Spooky Woods descent at Glentress mountain bike trail centre. Great flowing trails.
Happy Instructor - Outward Bound
A man happy at his work for Outward Bound.
Ben Lomond / Spec
A chance escape up Ben Lomond produced some memorable results from the great weather. Summiting with not a breath of wind on a perfect Scottish winters day isn't something you forget in a hurry.
Sea Kayak Camp, Knoydart / Trail Magazine
Sea Kayaking with Wilderness Scotland into Knoydart, camping for several days and climbing nearby Munros in perfect weather conditions. We got several covers, a 10 page feature and more from this trip. And they call this work.
Bruce's Stone / MBR Magazine
Squeezing in before the weather hit, this shot was taken a day before everything was covered with a foot of snow and the country came to a standstill. Happy days.
Andy McKenna on Skye / What Mountain Bike
Shooting a magazine feature was rarely this fun. Three days riding on Skye, camping and enjoying great craic with the boys and girls from Go-Where guiding.
Telemark Tour / Shot for Outdoor Fitness
Popping across to Norway for a planes, trains and automobiles trip to Telemark for a road sportive. Just watch out for roving moose on the road.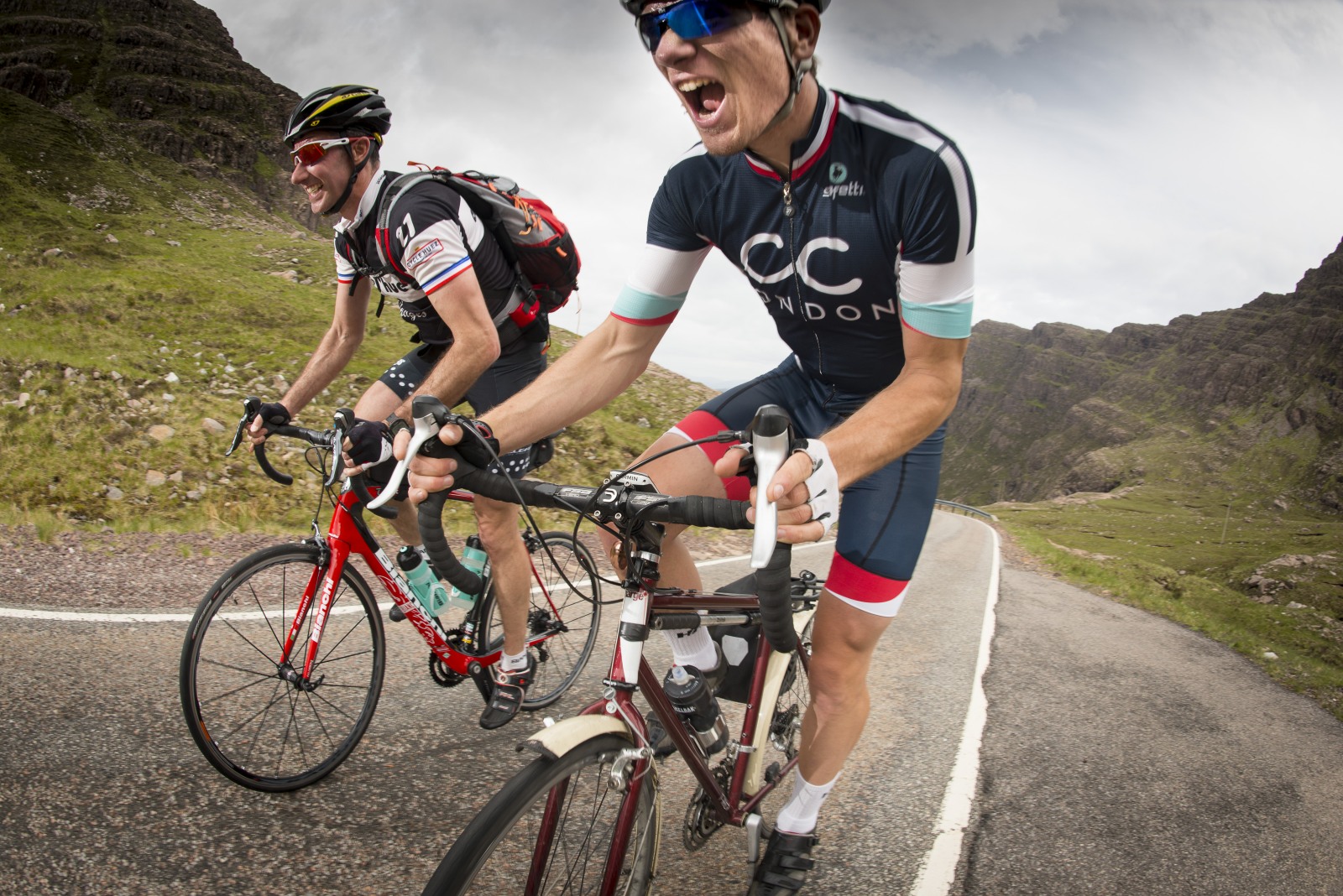 Climbing the Bealach na Ba / Outdoor Fitness
On the Applecross climb, the Bealach Na Ba, with the legendary Warren Pole.
The Barnes in Glencoe / MBR Magazine
The legendary Barnes, Hannah and Joe, in their home stomping ground of Glen Coe.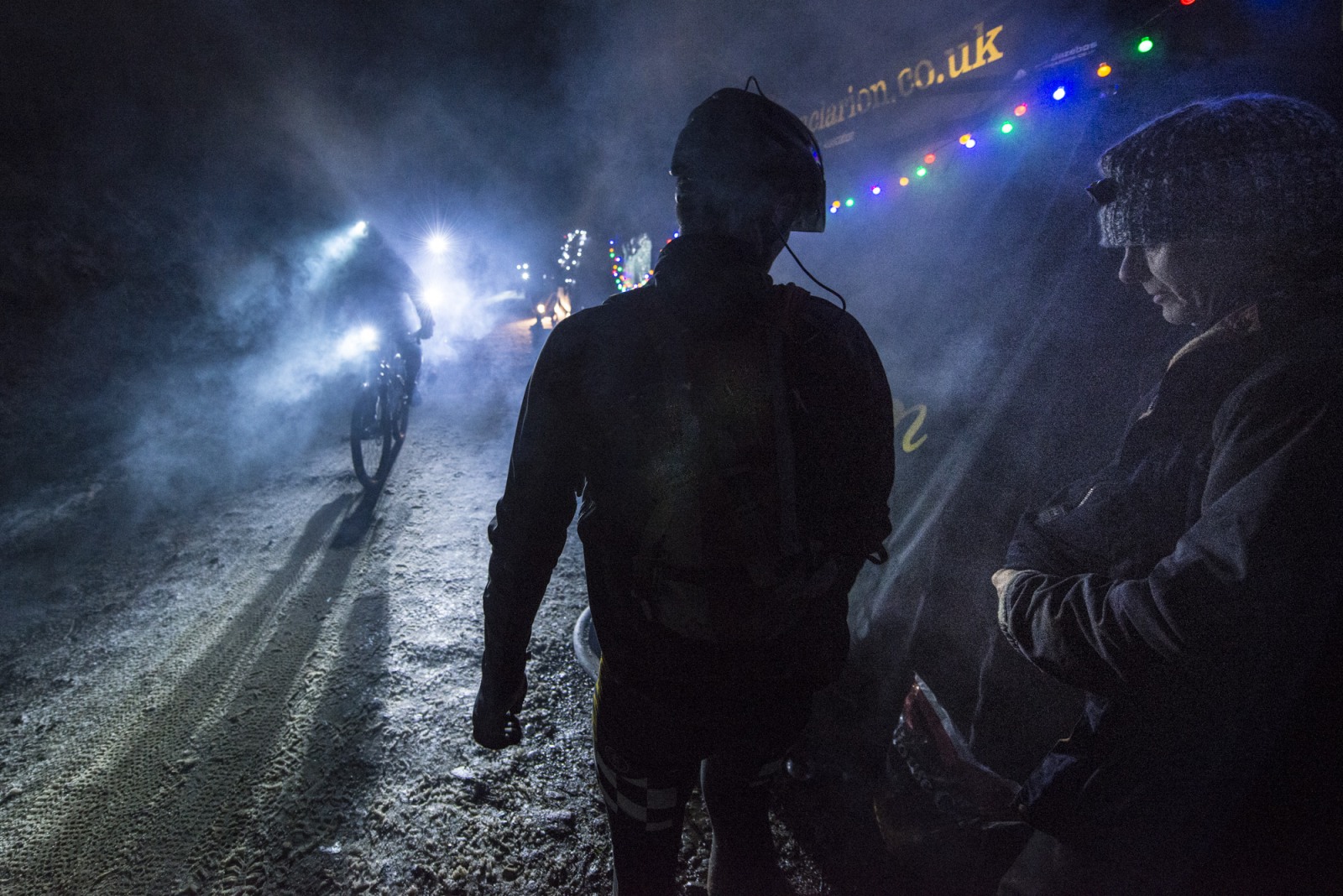 Waiting for the next lap of the Strathpuffer / Red Bull
Waiting in sub-zero temperatures for his team mate, a rider checks his lights with a helper and prepares for his 10km lap of the Strathpuffer course. Snow, ice, darkness and tough trails all add up to a cracking event.
Cairngorms Bluebird Day / Trail Magazine
In the Cairngorms on a flawless Scottish winters day for Trail magazine. Crampon work and amazing views.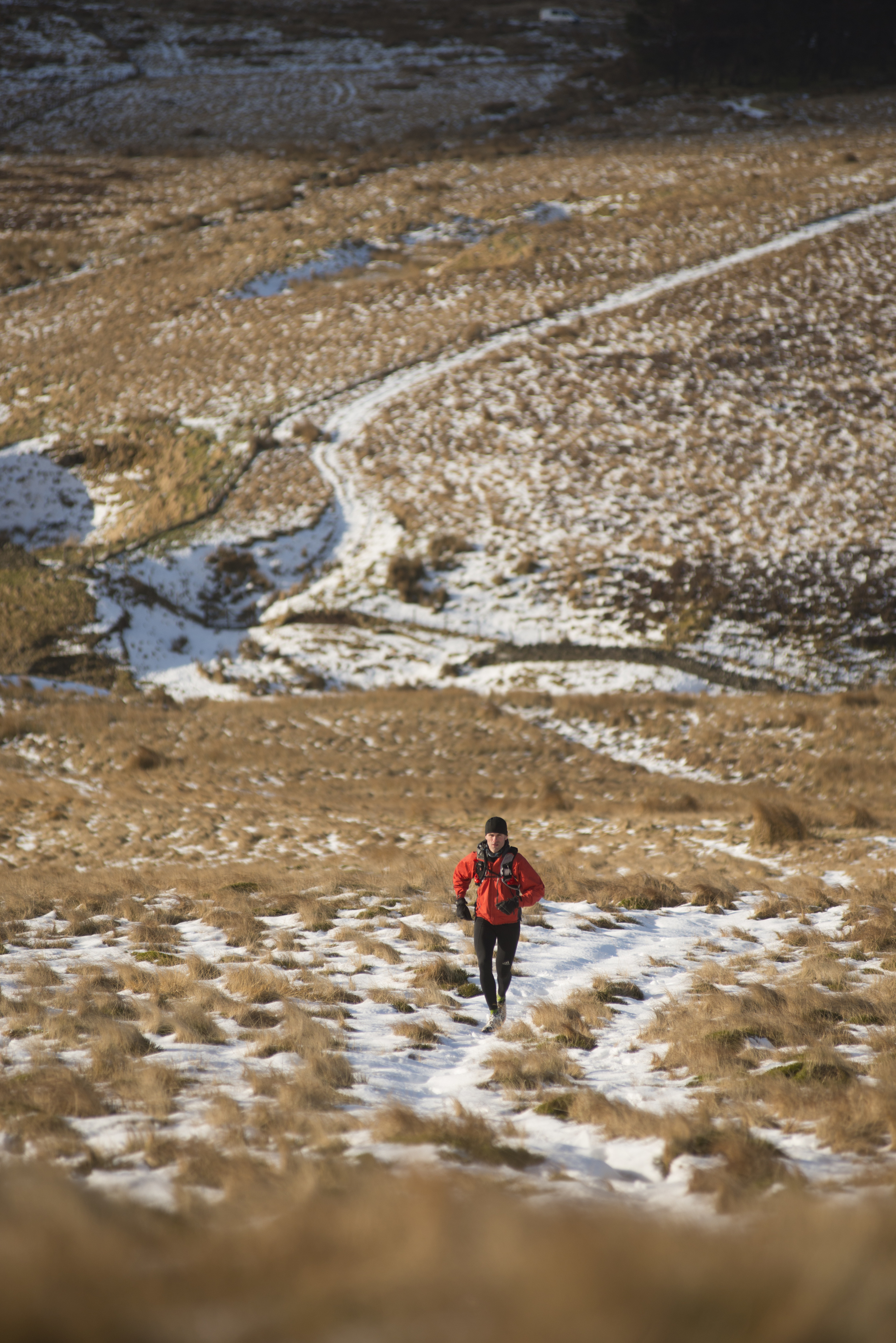 Trail Running the Snowy Ochils / Trail Running
Top athlete Sean McFarlane on the Ochils for a winter trail running feature.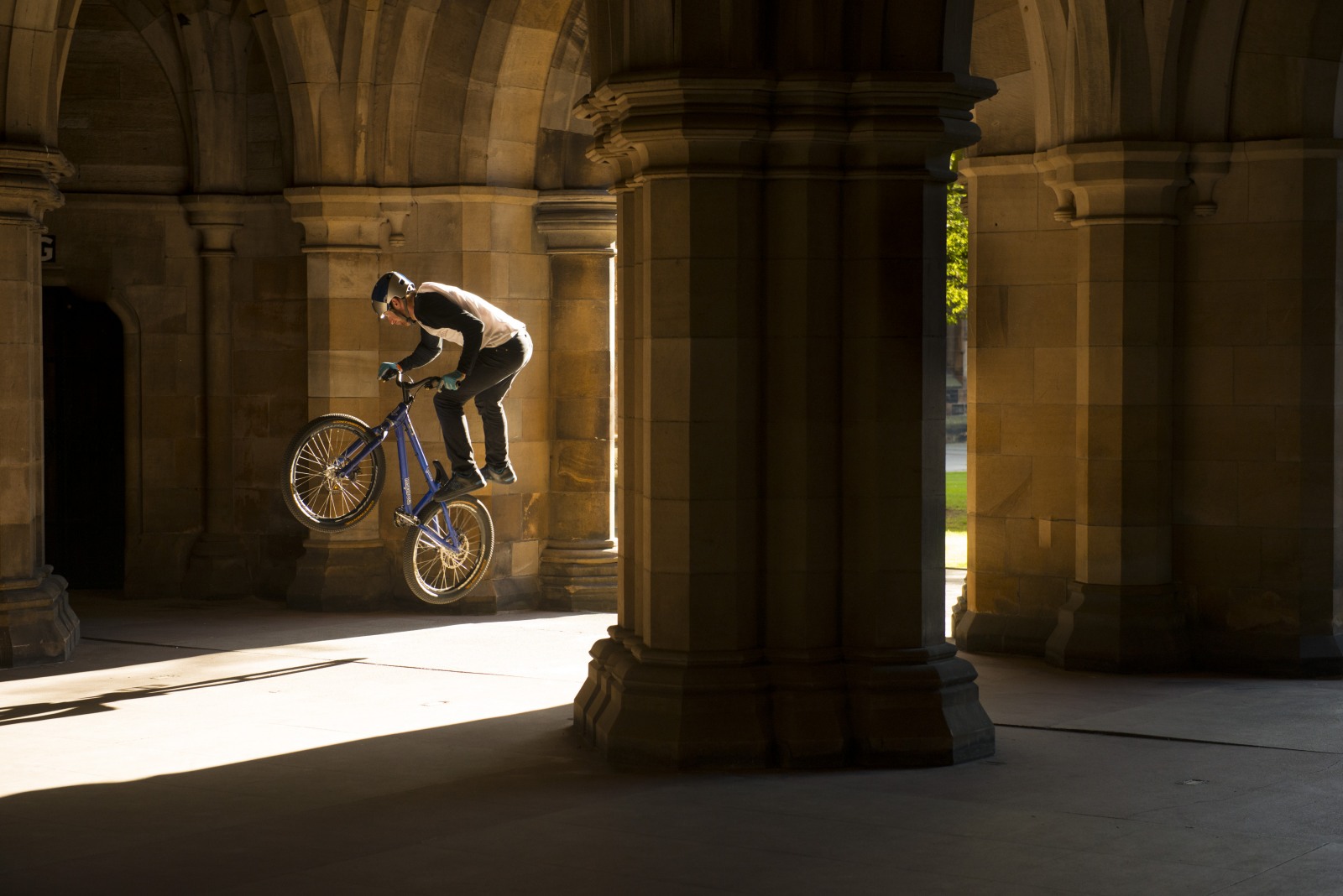 Danny MacAskill in Glasgow Uni / BBC
Another shot from the BBC/Commonwealth Games shoot in Glasgow. This time Danny is doing what he does best.
MTB World Cup, Fort William / MBR Magazine
The World Cup downhill at Fort William.
Dukes Weekender, Duke's Pass, Aberfoyle
Stu Thomson and Rob Friel powering up the Duke's Pass through the snows of winter. Glorious!
Lance McDermott, Rampworx / Saracen Bikes
Tricky lighting in Rampworx in Liverpool, shooting Lance for his sponsor Saracen Bikes.
Lance McDermott, Rampworx / Saracen Bikes
More Lance, more tricky lighting.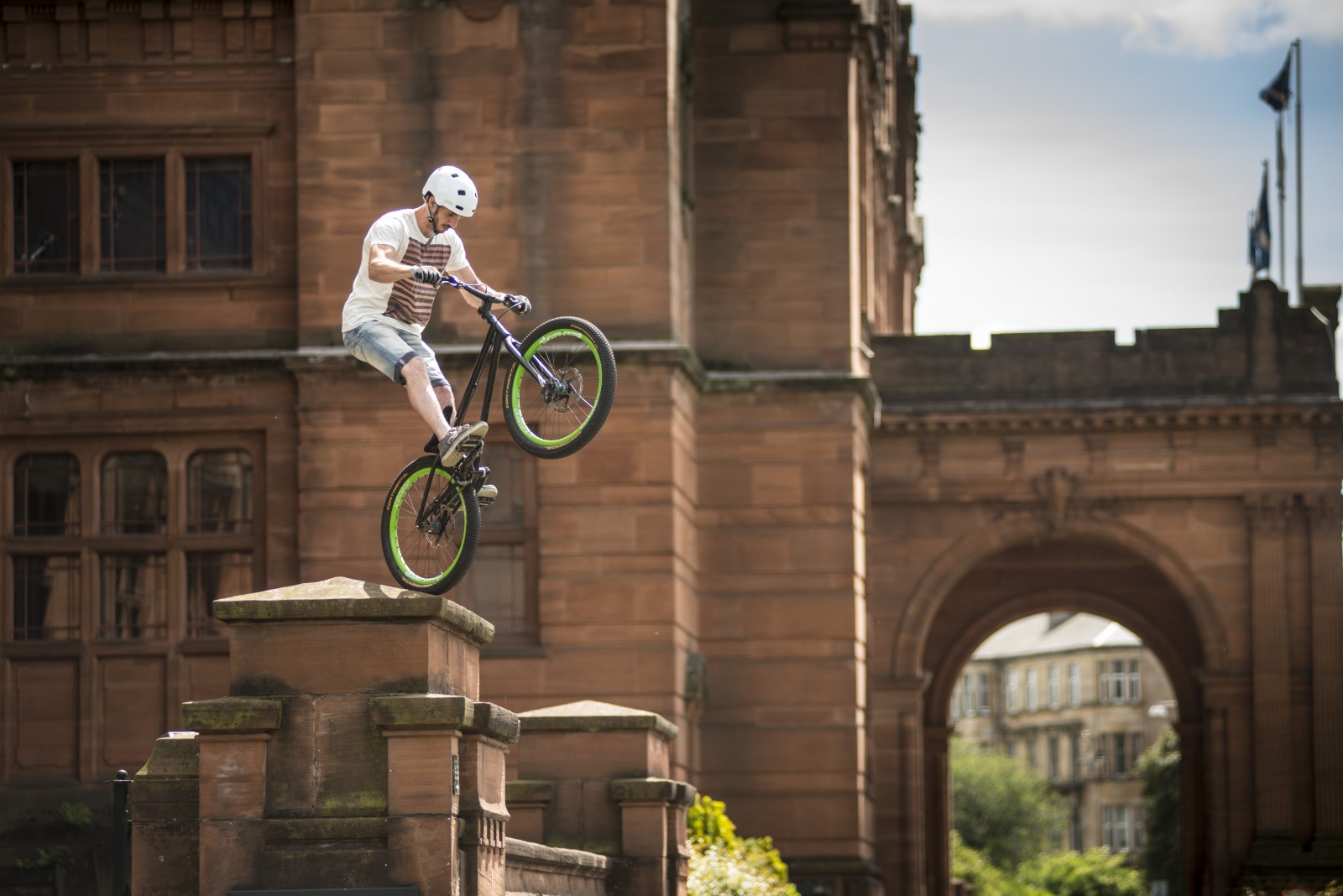 Ali C outside Kelvingrove, Glasgow / BBC
Ali C on the walls on Kelvingrove Art Gallery - a beatiful building to be practicing trials riding on.
Danny MacAskill - The Ridge Shoot / Cut Media
Danny on The Ridge shoot. You can see the ridge path heading off into the distance.
WINTER TRAINING, SEAN McFARLANE
The loneliness of the long distance triathlete. Sean takes to the Ochils for a piffling 20 mile hill run in the depths of winter. A true Scottish hero.